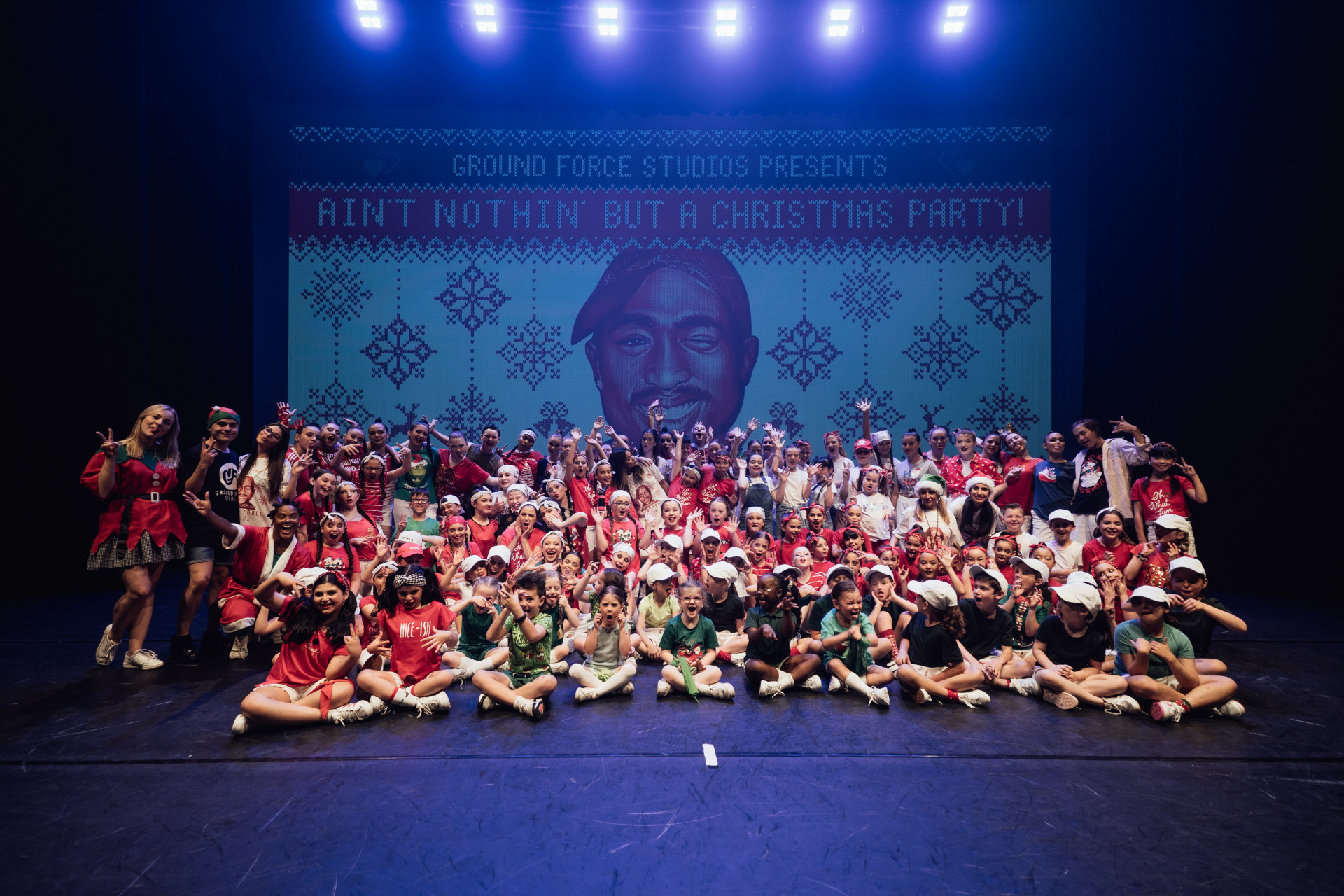 Join the GF Tribe
Studio Classes
In-School Programs
Hip-Hop Crewz
Book a Birthday Party
About Us
GROUND FORCE STUDIOS IS A ONE-OF-A-KIND, INNOVATIVE PERFORMING ARTS STUDIO AND EDUCATIONAL PLATFORM THAT PROVIDES A STRONG FOCUS ON DANCE FITNESS MOTIVATION, POSITIVE MINDSET AND WELLBEING.
Ground Force Studios offers after-school and weekend Hip Hop, Lyrical, Adults Fitness, and Competition classes for all ages and levels. Providing students with many performance and competition opportunities, Ground Force Studios has it all!
Ground Force Studios also offer Educational In-School Programs, which are shaped around the Australian Curriculum, Early Years Framework & SACE. The programs consist of Dance, Drama, Movement & Mindfulness, Fitness & Wellbeing, and Staff Development Programs for Primary and High Schools, Child Care and OHSC Centres across South Australia.
Ground Force Studios also work with schools to create Wakakirri Story Dance pieces, Productions, Musicals, Christmas Carols, Discos and much more!
At Ground Force, it's not just about learning how to dance, or act, but how to conquer dreams, boost self-esteem and confidence, love what you do, and most importantly have FUN!
Wakakirri video
The Ground Force Teacher Team worked alongside Whitefriars Catholic School and took out the Story of the Year for Wakakirri 2020 in all of Australia.
Check out their incredible Story-Dance…
"Through The Smoke"
"WE HIT THE JACKPOT WHEN WE BROUGHT OUR CHILD TO GROUND FORCE. A REAL FAMILY-FRIENDLY ENVIRONMENT WHERE EVERY CHILD FEELS THEY CAN ACHIEVE ANYTHING THEY PUT THEIR MIND TO"
"THE GROUND FORCE TEAM WERE AMAZING TO WORK WITH. I LOVED LEARNING THEIR CHOREOGRAPHY AND CONSTANTLY FEELING ENGAGED AND ENTHUSED."
"GROUND FORCE HAS HONESTLY BEEN THE BEST EXPERIENCE OF MY SCHOOL LIFE. I'VE NEVER BEEN SO EXCITED ABOUT GOING TO SCHOOL! THANS TO THE GF TEAM."
"GROUND FORCE IS AWESOME AND FUN! THE TEACHERS ARE LIKE MY BIG SISTERS. I LOVE IT!"